Crete Gastronomy Tours
Welcome to Crete Gastronomy Tours!
Guide your palates on an unparalleled culinary journey of flavors!
Crete Gastronomy Tours was established by Perikos Konstantinos, an ambassador of tourism and gastronomy, a certified and award-winning chef specializing in Greek & Cretan gastronomy. The love for our Greece, our Crete, our history, our traditions, our culture are what pushed us to compose a palette of culinary experiences for visitors and introduce them to our way of life and that of our ancestors.
Our team organizes the best experiential activities for gastronomy lovers who want to experience the traditions, customs and authentic flavors of our place.
Perikos Konstantinos
Konstantinos is an authentic Greek coming from a refugee family, from the area of Konstantinoupoli and Smirni, where the heart of Hellenism beats.
He grew up with his mother's and grandmother's cooking... from a young age, he liked to put his muzzle in the kitchen and he loved experimenting, helping and watching the cooks of the family cook the food of the day or some celebration.
Food in Crete is a way of life, it brings memories and awakens the senses in the soul.
Over the years, Konstantinos gained experience and became an award-winning chef with great love and passion for cooking, creating unique dishes, with the pure ingredients of the Cretan land.
Konstantinos has worked as a chef in various restaurants and luxury hotels world-wide, representing and promoting Greek gastronomy, traditional Greek products and the culture of our country.
Cooking is above all, a matter of love. Cooking with the smell of onions and garlic pervading the kitchen, one must consider that what he is doing is done with love, great contentment and spiritual embrace for others. May we then add flavour and aroma to our lives. This is what Konstantinos and his team have chosen to do and we will do it together through Crete Gastronomy Tours.
Perikos Konstantinos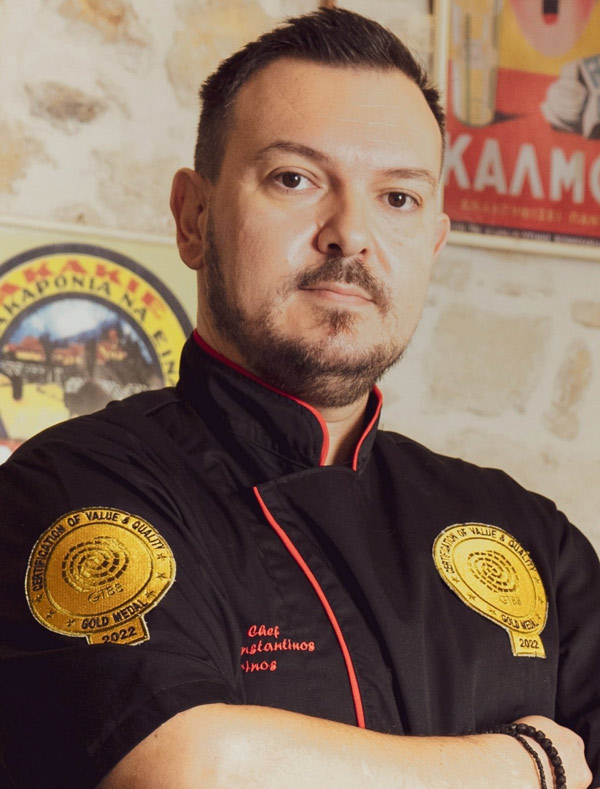 Ambassador of Greek tourism and gastronomy
Ambassador of tourism and gastronomy, a certified and award-winning chef specialising in Greek and Cretan gastronomy.
Tours Heraklion
Crete Gastronomy Tours is the best way to learn about Cretan gastronomy and get involved in the cooking process.
Heraklion Tour Minoan Gastronomy
Heraklion Tour Ancient Rizinia, Prinias
Heraklion Food Tour
Heraklion Tour Lasithi Plateau
Heraklion Tour Winery & Tasting
Heraklion Tour Gastronomy Seasonal